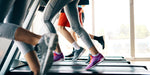 It is very important to participate in structured exercise programs that include high intensity interval training (HIIT) aerobic exercises to boost your metabolism. Dr. Arem's Protein Boost Diet 20/10 exercise program is a well-balanced exercise program designed to boost your metabolism. It will make you continue to burn fat even after you've stopped working out because of some fat burn promoting hormones released in the blood stream, as a result of this type of exercise. You can find extensive details on this exercise program in Dr. Arem's book titled The Protein Boost Diet, but here are some easy to follow fundamental tips from his book:
-          You complete a total of 30 minutes daily of exercise.
-          20 minutes of the total 30-minute routine is composed of aerobic exercising, alternating with HIIT.
-          The final 10 minutes of the routine is muscle workouts that include 5 repetitive exercises that focus on specific muscle groups.
This perfectly balanced exercise program combined with an optimal diet will result in easy, more effective, and longer lasting weight loss.