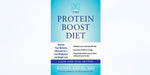 The Protein Boost Diet
By Ridha Arem, M.D.
Buy the Book from Walmart           Buy the Book from Amazon
Is your thyroid making you fat? Calorie restriction and dieting alone can't fix metabolic problems to help you lose weight if you have a sluggish thyroid or metabolism. You need a comprehensive weight-loss program that includes a healthy, hormone-friendly eating plan that will boost your metabolism, let you shed the extra weight, and help keep it off. Dr. Ridha Arem, world-renown endocrinologist and author of the half million copy bestseller, The Thyroid Solution, now presents his proven program for re-setting sluggish metabolism for efficient weight-loss, improved thyroid wellness, and increased well-being. He has successfully treated thousands of thyroid patients for weight loss thanks to his deep understanding of how hormones affect people's weight and wellness. The Protein Boost Diet, makes his comprehensive plan available to the public. With it, you will lose weight, look better, and feel physically and mentally great. The Protein Boost Diet offers a refined and perfected Mediterranean diet that is high in metabolism-boosting proteins and fiber, and low in high-glycemic foods. It provides specific recommendations on which foods to eat or avoid at each meal, as well as the right kinds of supplements to take to boost your metabolism and reverse multiple hormonal imbalances. The Protein Boost Diet is by far the most balanced diet program that is put forward by a medical doctor and based on extensive medical research. No other available book on thyroid, diet, and weight loss is written by a specialist with Dr. Arem's expertise and knowhow. It is important to note that this unique program is as effective for those with or without normal thyroid function. The Protein Boost Diet includes 50 recipes, meal plans, a detailed exercise program, and personalized advice for a total lifestyle revolution.
Testimonials "Protein Boost Diet embraces the principles of a low-glycemic index, the Mediterranean Diet, and a high-protein diet, a combination proven by science to be best for long-term health as well as weight control. The diet is not only easy, it's delicious." – Jennie Brand-Miller, PhD, author of The Low GI Diet