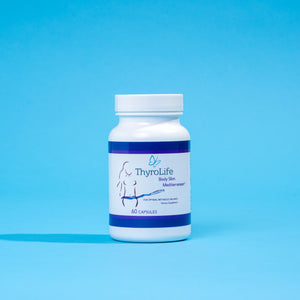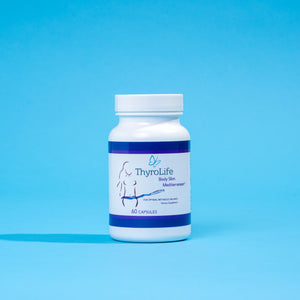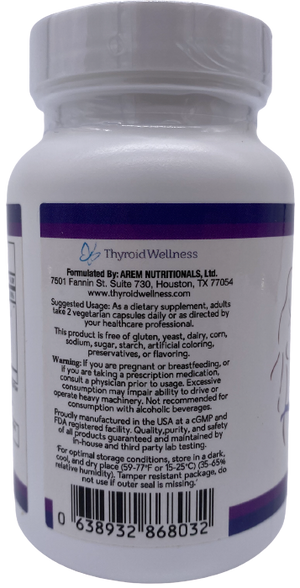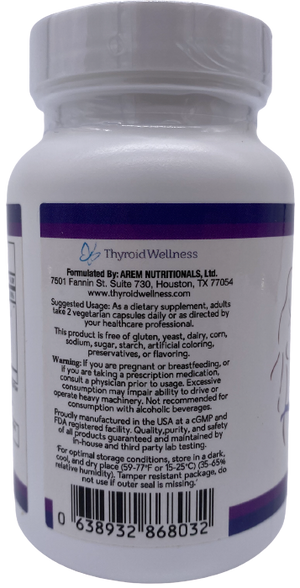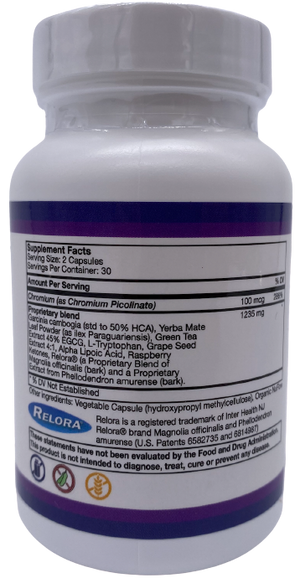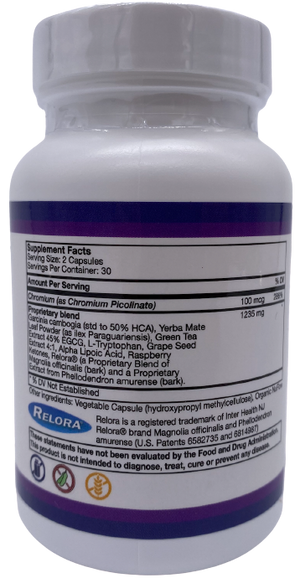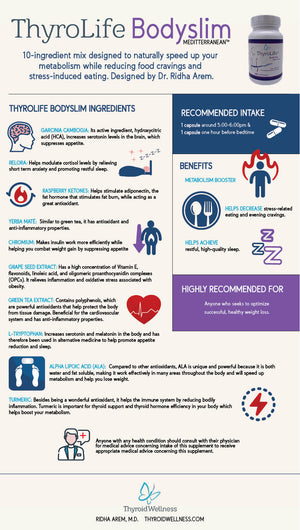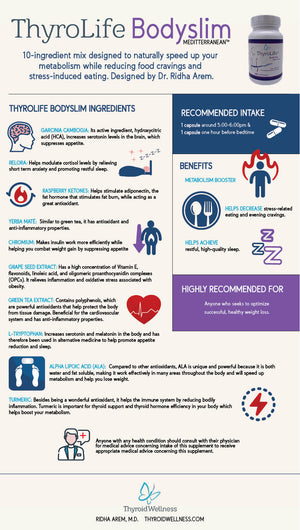 On Sale
ThyroLife Body Slim Mediterranean
 10-ingredient mix designed to naturally speed up your metabolism while reducing food cravings and stress-induced eating. Designed by Dr. Ridha Arem
Daily Recommended Intake: 1 capsule around 5:00-6:00pm & 1 capsule one hour before bedtime     
🏋️‍♂️METABOLISM BOOSTER - 
🛑HELPS DECREASE STRESS RELATED EATING AND EVENING CRAVINGS - 
😴HELPS ACHIEVE RESTFUL, HIGH QUALITY SLEEP. 
Composition Description:
Garcinia Cambogia – An exotic fruit native to South India. It is known for speeding up the body's metabolism, reducing the body's ability to store fat, and helps you burn off more calories. Garcinia Cambogia's active ingredient, hydroxycitric acid (HCA), increases serotonin levels in the brain, which suppresses appetite.
Relora- Composed of a proprietary blend of patented extracts, from both Magnolia officinalis and Phellodendron amurense, which have been used in traditional Chinese medicine for over a thousand years. Constant stress is something that most Americans struggle with on a day-to-day basis and that stress causes our cortisol levels to be eleveated. Excess cortisol causes stress-induced eating while making fat accumulate around the waist. Relora helps modulate cortisol levels by relieving short term anxiety and promoting restful sleep.
Raspberry Ketones – this compound is what gives raspberries their delicious smell. It helps to stimulate adiponectin, the fat hormone that stimulates fat burn, while acting as a great antioxidant. Raspberry ketones are even more effective when mixed with the other ingredients included in Body Slim Mediterranean.
Chromium – An essential nutrient having important roles in carbohydrate and lipid metabolism. Chromium makes insulin work more efficiently while helping you combat weight gain by suppressing appetite. Additionally, Chromium Picolinate has been shown to improve memory function in the elderly as well as having positive effects on cholesterol levels.
Green Tea Extract – Contains polyphenols, which are powerful antioxidants that help protect the body from tissue damage. Green tea has a high content of catechins, a polyphenol that increases fat oxidation, inhibits fat development, and helps burn off calories. Additionally, green tea is beneficial for the cardiovascular system and has anti-inflammatory and anti-­cancer properties.
Yerba Maté – A tropical plant found in South America. Similar to green tea, it has antioxidant and anti-­inflammatory properties. Additionally, Yerba Maté helps promote weight loss by decreasing hunger and increasing the number of calories burned.
Grape Seed Extract – Has traditionally been used as alternative medicine in the Mediterranean since the times of Ancient Greece. It has a high concentration of Vitamin E, flavonoids, linoleic acid, and oligomeric proanthocyanidin complexes (OPCs). OPC is a polyphenol with strong antioxidant properties. Resveratrol is another powerful polyphenol found in grape seed extract that shows promising metabolic benefits for obese individuals. It relieves inflammation and oxidative stress associated with obesity. Grape Seed Extract has been shown to reduce swelling and help people with poor blood circulation and other cardiovascular diseases.
Turmeric, also known as curcuma longa, – A plant in the ginger family. Turmeric has been used to treat everything from stomach pain and heartburn, to colds, fevers, and has even been included in cancer treatments. Besides being a wonderful antioxidant, it helps the immune system by reducing bodily inflammation. Turmeric is important for thyroid support and thyroid hormone efficiency in your body which helps boost your metabolism.
Alpha Lipoic Acid (ALA) – A fatty acid naturally synthesized in the body. It helps produce the energy from glucose that is needed for normal bodily functions. Compared to other antioxidants, ALA is unique and powerful because it is both water and fat soluble, making it work effectively in many areas throughout the body. Its powerful antioxidant properties will speed up metabolism and help you lose weight. Additionally, ALA has promising protective effects on the brain and nerve tissues.
L-­Tryptophan – An essential amino acid important for bodily function. L­-Tryptophan increases serotonin and melatonin in the body and has therefore been used in alternative medicine to help promote appetite reduction and sleep.