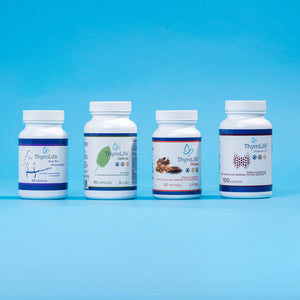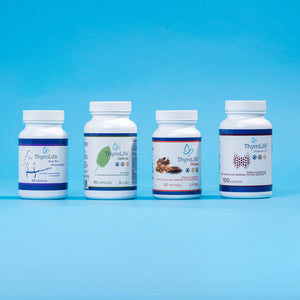 On Sale
Weight Loss Package
The Weight Loss Package is a discounted bundle with a purpose of helping anyone achieve optimal weight loss:
Recommended Daily Intake: 3-7 capsules of Probiotic 7-7, 3 capsules of Optima, 2 soft gels of Omega right after breakfast. 1 capsule of Body Slim around 5-6pm and 1 capsule of Body Slim one hour before bedtime
ThyroLife Optima: A unique mix of 32 antioxidants, vitamins, and minerals essential for optimal thyroid function and immune system health
Thyrolife Omega: high quality soft gels of omega-3 fatty acids (DHA and EPA) which help achieve an optimal omega-3 to omega-6 ratio, enhance mitochondrial thermogenesis, and and help immune system function
ThyroLife Probiotic 7-7: a high quality and unique blend of 7 GI and immune system friendly probiotics that thrive with diets rich in fiber (Dr. Arem recommends at least 30g a day!)
ThyroLife Body Slim: a 10-ingredient mix designed to naturally speed up your metabolism while reducing food cravings and stress-induced eating!)

All of these elements work together to reduce stress, boost metabolism, and ensure your body is receiving the right amounts of vitamins, minerals, and antioxidants that will reduce inflammation in your body to optimize thyroid hormone efficiency. These are conveniently offered in the form of a discounted package for you!