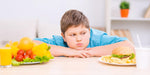 Research has shown that children who are obese have a much greater risk of becoming and remaining obese as adults than normal weight children. Obese adolescents also have a very high risk for remaining obese as they become adults. In general, children who suffer from obesity and who remain obese or become obese as adults, have a high risk for developing metabolic syndrome, as well as type II diabetes and cardiovascular disease. The latter are often consequences or co-morbidities of metabolic syndrome.
One of the most obvious causes for the increase in metabolic syndrome and obesity in children is the high consumption of unhealthy, western-style diet. These children tend to choose diet foods that are conducive to a weight gain trend and to metabolic syndrome. Certainty the caloric intake is high in these children, but more importantly, it is the consumption of high amounts of carbs, saturated fat and trans-fat, and the deficit in fiber intake, all damaging to metabolism, that contribute to the long term trend of weight gain and occurrence of metabolic syndrome.
 On the top of eating unhealthy foods, which becomes, in itself, an addiction to eating unhealthy foods, children likely to become obese and afflicted with metabolic syndrome have issues with sleep deprivation, caused by the use of electronic devices. In fact, children these days are getting, on an average, 2 hours less of sleep a night than children did 20 years ago. It is clearly established that sleep deprivation and poor-quality sleep affect metabolism in both children and adults, and in fact, sleep problems are common reasons for gaining weight and for difficulties losing weight.
 It is highly recommended that parents teach their children healthy lifestyle, particularly with respect to the types of foods that their children become used to eating at home, and with respect to adequate sleep patterns as this approach will prevent major health consequences for their children.