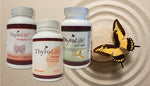 Caring for Hashimoto's Thyroiditis for autoimmunity related thyroid disease should not be limited to using thyroid medications to keep thyroid hormone levels in a perfect range. It should also include other means to keep thyroid cells as healthy as possible and making the immune system, which is the root of the problem, less reactive. Taking a well-balanced thyroid supplement program providing the ingredients necessary to promote health to the thyroid gland and support to the immune system, as an adjunct to medication is an important component of Dr. Arem's Thyroid Wellness Program. The supplement program includes three supplements which, when taken together, promote all of the benefits to the inflamed thyroid gland and to the reactive immune system that is constantly producing a wide range of inflammation chemicals. These three supplements have been thoroughly designed by Dr. Arem to help in reducing inflammation and damage caused by the immune system.

·         Thyrolife Optima:  Thyrolife Optima contains over 30 ingredients for thyroid and immune system support. Obviously, anyone who is predisposed to having a thyroid condition in the future is encouraged to take this comprehensive, well-balanced mix of vitamins, antioxidants, and other natural ingredients to support the function of the gland and of the immune system. Even if you do not have any predisposition, you should consider taking this wonderful supplement. Thyrolife Optima does not contain calcium or iron so that there will be no interference with thyroid hormone absorption in you are a thyroid patient taking thyroid medications. And if you need iron or calcium supplement, take these several hours after taking your thyroid medication. The recommended daily intake is 3 capsules with any meal, including breakfast.

 

·         Probiotic 7-7: This unique probiotic contains 7 selected strains of good bacteria, unlike many other probiotics that contain only 1 to 3 strains. Each capsule contains seven billion, this is the reason this probiotic designed for thyroid wellness is called Probiotic 7-7. The probiotics included have a potent affect on reducing bacterial imbalance and inflammation in the GI tract. The benefits of these strains make the immune system generate less inflammation chemicals that are likely to affect your body, mood, and energy. Overall, Probiotic 7-7 works in concert with Thyrolife Optima to reduce inflammation. The average recommended daily intake of Probiotic 7-7 is 3 capsules. But you can even take 4 or 5. And, you may also combine Probiotic 7-7 with other probiotics, and prebiotics.

 

·         Thyrolife Omega: All fish oil capsules are not created equal. It is essential to have the proper amounts and ratio of EPA and DHA. Dr. Arem includes omega-3 fatty acids in his top recommendations because of their cardiovascular benefits, anti-inflammatory properties, and cognitive benefits. The recommended intake of Thyrolife Omega is 2 soft gels daily. They contain 600 milligrams of EPA and 400 milligrams of DHA. These amounts and ratios benefit tremendously the thyroid gland and the immune system, as well as metabolism. Taking this important component of the Thyroid Wellness Supplement Program will your omega-3/omega-6 fatty acids in a healthy range.

·         As a thyroid patient, you at a high risk for suffering from vitamin D deficiency, and vitamin D deficiency has been shown by scientific research to promote autoimmunity, inflammation, slow metabolism, and many other health issues. For this reason, you should pay attention to your vitamin D level and take the right amount of vitamin D3, preferably in a form that will provide you with consistent absorption and levels of vitamin D3. This is why in addition to Thyrolife Optima, Thyrolife Probiotic 7-7, and Thyrolife Omega, Dr. Arem often recommends vitamin D3-K2 in a liquid form. Each full dropper contains 10,000 units of vitamin D3. Each person may require a different amount of vitamin D3 supplementation. In the average, thyroid patients require 1 to 2 full droppers a week (10,000 units to 20,000 units) to achieve and maintain an excellent level of 25 OH Vitamin D level. However, some people may require more than these amounts. This is why testing and monitoring vitamin D levels is quite important for thyroid patients. Being consistent with taking the Thyroid Wellness Supplement Program, without ignoring one component, is likely to provide you with the maximum benefits as far as thyroid health and immune system support, so crucial for people struggling with autoimmune thyroid disease such as Hashimoto's Thyroiditis Graves' Disease, or other autoimmune conditions such as Lupus and rheumatoid arthritis.