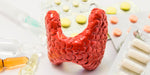 Most conventional doctors in the United States and in the world treat thyroid imbalance with T4, Synthroid or another preparation. There is a minority, however, that treat the thyroid imbalance with huge amounts of Armour thyroid (a medication that combines the two thyroid hormones, T4 and T3).
While adding T3 to your thyroid treatment can improve some of your symptoms and is an important component of Dr. Arem's thyroid program, it should be noted that treating hypothyroidism with Armour thyroid alone can result in thyroid hormone overmedication. Armour thyroid contains more T3 than the body needs when prescribed in high doses. Symptoms of overmedication could include palpitations, anxiety, difficulty sleeping, sweating, and even weight loss.
Long term effects of thyroid hormone (T3) overmedication could be more severe such as muscle damage, cardiovascular risks, and even decreased memory. If you are concerned about overmedication, you should have your TSH, free T3, and free T4 levels checked.