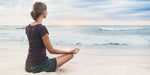 To reduce inflammation in the body, it is imperative to eat a healthy diet, take a daily vitamins and antioxidants, and try not to be consumed by stress.
Countless people are unaware that stress can actually cause chronic inflammation. Inflammation arises when the immune system is not at its optimum state. Chronic inflammation can contribute to many diseases including cardiovascular disease, diabetes, some cancers, and even rheumatoid arthritis. Inflammation also results in brain changes and has the potential to lead to sleep disturbances, depression, and cognition issues.
Mindful awareness is a practice thousands of years old that involves the conscious awareness of one's thoughts, feelings, and actions while drawing conclusions based on those findings. Mindful awareness practices are thought to be great ways to eliminate stress and inflammation in the body.
There are many varieties of mindful awareness practices including yoga, meditation, and tai chi that all have the common goal of achieving peace of mind. These practices will force you to slow down, de-stress and, in turn, reduce inflammation.
Yoga and tai chi are simple practices to learn because many facilities offer these classes. Meditation, however, can be a little more complicated. Meditation should be practiced at the start of your day to give your brain a fresh wake up or at the end of a day to achieve peace before bed. You also want to make sure your place of meditation is quiet and free of distractions. Gradually, begin to relax and soften each part of the body. Once relaxed, you can now focus on relaxing your hands, arms, and legs. Explore your body for areas that are not fully relaxed and soften those rigid areas. To clear the mind, pay attention to your breath and picture yourself in a calm and soothing setting, whatever that may mean to you. Focus on letting any meandering thoughts escape. The last step is allowing your mind to become entirely silent. Some people may get lost in meditation, so setting a timer is always a helpful tip if you think you may need to do so. All of these examples are fantastic ways
to eliminate stress, and subsequently, reduce inflammation in the body.